There was a lot of buzz in the market about the monumental follow-up of the Bloons TD 3, as it was claimed that many changes have been made in this new edition of the game and at last the moment came in the October 2009 when it was finally released. For the first time, the iOS version of the game was introduced as a result of the joint collaboration of Ninja Kiwi and Digital Goldfish.
New Features
This time around, the game underwent a lot of changes, some of these changes are:
1.
The btd 5 gameplay was graphically modified and improved a lot
2. The option to save the game was also introduced
3.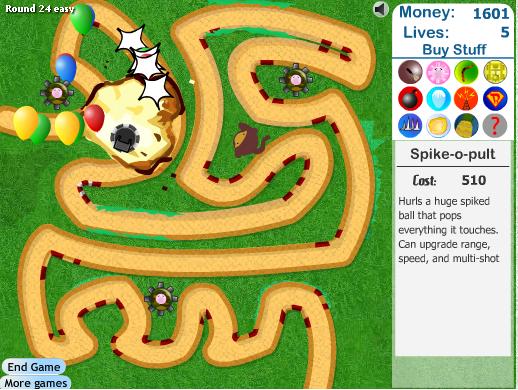 Unlock-based leveling system was introduced for the first time
4. Increased number of upgrades per tower
5. New maps were added
6. New game modes were added which included the Sandbox game mode and the Apopalypse game mode. The Sandbox mode is unlocked once the player reaches the 26th Rank, whereas Apopalypse game mode is unlocked once the player reached the 31st Rank.
The iOS version of the game received a lot of popularity and millions of people played the Bloons TD 4 game on their iPhones and iPads.